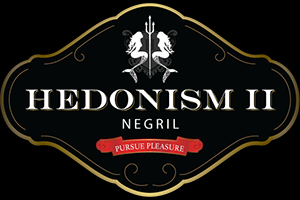 What is Hedonism®?
THE SEXIEST PLACE ON EARTH WHERE YOU CAN BE WICKED FOR A WEEK

Hedonism®, Hedo®, Hedo 2®, Hedo II®, H2®, or HII®. No matter what you call it, Hedonism II is the world's most iconic adult playground. An all-inclusive paradise where you can turn your fantasies into reality! Experience what you only read about in erotic novels and let loose!
Be as mild or as wild as you like!

People travel to Hedonism II from all corners of the world to live out their fantasies, to escape their inhibitions, to play. Life is too short. Do it now, before later becomes never.

Your Pleasure Is Our Passion!

Hedonism II breaks the boundaries of other Lifestyle-friendly, clothing optional resorts. Here, there's never too much of a good thing. People travel from far and wide to live out their fantasies and escape their inhibitions. Leave the mundane day-to-day behind, explore yourself as you explore the sensual and liberating environment of Hedonism II Negril, Jamaica.

Decide on a clothing optional resort or nude vacation and be no one but your beautiful self. At our resort you can:
● Sleep in and stay up late.
● Give up counting calories.
● Have a drink before noon.
● Dine in shorts.
● Talk to strangers.
● Don't make your bed.
● Go skinny dipping.
● Don't call your mother.
● Let your hair down.

Hedonism II is a sandbox for your inner child, and nourishment for the mind, body, spirit, and soul. With absolutely everything included in one upfront price, you never have to think about money—not even tips—just what to do next…And, if you desire – with whom!
Resort Activities

Spend your days and nights swimming, playing, dancing and laughing. Hedonism II has one of Jamaica's most comprehensive aquatics centers and it's all included. Indulge in a vast array of water sports ranging from sailing to PADI Scuba diving. Enjoy our top of the line equipment, professional staff and unparalleled location on the edge of seven mile beach, Negril.

Set sail on a Catamaran, explore secret caves with a snorkeling adventure, chill on the deck listening to Reggae rhythms while sipping a refreshing cocktail, the choices are endless.

We have beautiful secluded private beaches, and pools well as Jacuzzis on either side of the resort. Offering endless opportunities and there's always something happening at Hedonism II.

The possibilities don't stop on dry land. Hedonism II provides plenty of excitement for guests who don't want to get wet. Enjoy Tennis, day and night, on lighted courts surrounded by a lush tropical landscape. Whatever your heart desires you can experience it at Hedonism II. The options are endless, from a game of volleyball on the beach, a giant game of chess, pool in the pool or simply chilling out in one of our secluded hammocks or cabanas.


Accommodations

Experience the unique ambiance and atmosphere of our luxury rooms designed to heighten your senses and awaken your spirit. Hedonism II features 280 luxury rooms and suites designed in harmony with the natural landscape. Indulge your senses in spectacular rooms that embody lavish living with contemporary decor. All of our premium suites feature private terraces with views of the ocean or lush jungle, jacuzzi's, flat screen TVs ,Euro-style Jacuzzi shower or rain shower, coffee maker, refrigerators, hair dryer, and a safety deposit box. Whatever you desire, our exclusive rooms surround you in luxury, style and a tropical paradise.

At Hedonism II, we offer accommodations on both sides of our lush, oceanfront resort in Negril, Jamaica. Our "Nude" category features Garden View, Ocean View, and Premium Rooms located on our nude side of the resort. Our "Prude" category features Garden View and Ocean View rooms located on our quieter clothing optional beach and gardens. Guests of either category are welcome on both sides of the resort.
Gourmet Dining

Deliciously Intimate. This is Jamaican world-class dining designed just for you. From our signature buffet, offering a wide selection of local and international inspired cuisine, to the poolside comfort of the beach grill. The talented culinary team at Hedonism II ensures every meal is memorable. For an even more intimate private dining affair, opt for an impeccable private dining experience on the beach, surrounded by candles and listening to the ocean. The choice is yours and yours alone. Our world famous chef, Anthony Miller, prides himself on his unique and flavorful dishes using only the finest and freshest ingredients.

No reservations are required for any of our restaurants
All Open for dinner 6:30pm – 9:30pm
Semi-Formal (tailored shorts allowed)
All Closed Fridays